Get high quality, professionally recorded vocals on your next track today, completely royalty free.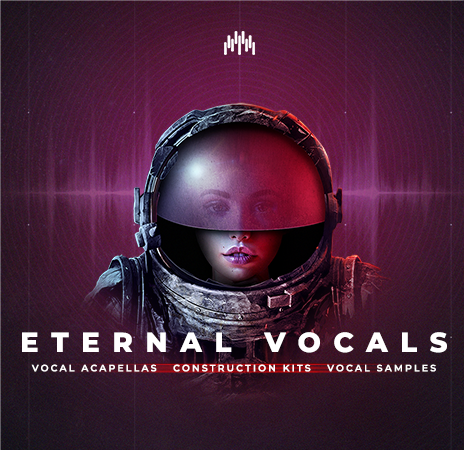 5 Premium Vocal Acapellas
25 Individualized phrases of vocals
XX Construction Kits
XX Vocal Pads
All 100% royalty free and usable in any DAW.
14-Day money back guarantee.
100% Money Back Guarantee
5 Premium Vocal Acapellas
25 Individualized phrases of vocals
XX Construction Kits
XX Vocal Pads
All 100% royalty free and usable in any DAW.
14-Day money back guarantee.
Recorded by proven industry vocalists.
So you can enjoy the experience of having a pro vocalist on your next track,
Some of which who've earned millions of streams and listeners on their features.
Having expert vocalists on your music makes the whole production process easier.
Our aim with Eternal was to create a vocal collection for upcoming, intermediate, and advanced level artists to have access to an array of versatile vocals for your music.
Each vocal has been tested on genres like deep house, Lo'fi, ambient, cinematic, tech house, future, slap, and any other melodic genre of electronic.
Usable in any music program.
5 Full-Length Female Vocal Toplines (dry)
5 Pre-processed, song-ready versions of each vocal topline (total of 20)
5 Instrumental construction kits
20 Vocal FX
30 Moody Vocal Pads
20 Cinematic Vocal Soundscapes
20 - 50 Vocal Riffs
20 - 50 Spoken Dark Electro Phrases
5 Vocal Presets
Once you download your zip folder of Eternal's vocal acapellas and samples, you can drag-and-drop each/ any one straight into your DAW or music program. Each sample or vocal could be used alone and designed into their own vocal atmosphere or sound, or they can be used over your track instrumental as a full vocal topline.

What genre is Eternal Vocals for?

Eternal vocals works well with any melodic genre of electronic. Like Lo-fi, deep house, house, progressive, future bass, chillstep, indie, ambient, and more.

Are the vocals customizable?

Yes, each vocal includes a dry version on this pack. This means you can edit, customize, and even design the vocals with any type of effects or pitch to better fit your genre or sound.

Where can I use these vocals in my song?

Eternal has vocals and samples that can be used as vocal chops, pre-drop vocal cuts, short verse phrases, atmospheres, plucks, leads, or full length toplines.

If you find that this pack doesnt quite fit your interests, just let us know via email,




Nick@alexromesound.com
Its time to call off your vocal search party,
The average producer might spend hours fishing through videos, live performances, DVDs, vinyls, forums, free sample websites, and vocal plugins for samples and vocal cuts.
These options can be good, but quality and copyright never fail to disappoint.
In the last 10 years at Alex Rome Sound,
We've found that experienced vocalists can be picky with who they work with, hiring vocalists is expensive, and most free options for downloading vocals can bring a number of quality issues into the final mix.
So what's next?
As our network in the music industry has grown, we've gotten to meet some high level, experienced vocalists,
And let me tell you, working with professional vocalists is a GAMECHANGER.
Since Ive received tons of messages from my community about how to find good vocals,
I wanted to share the experience with you as well,
So we decided to collab with a few of the highest quality vocalists we could find and create something awesome for independent producers.
And assemble Eternal Vocals.